Welcome To SAIL-VISL
Visvesvaraya Iron & Steel Limited (VISL), founded by the Engineer Statesman of the erstwhile State of Mysore, Sir. M. Visvesvaraya in 1923, as a small pig iron unit and gradually matured into a modern steel complex. The story of VISL is the saga of technological excellence in the manufacture of iron and steel. The company had technical collaboration with M/s. Bohler Brothers & Co., Austria (now VEW). The Company achieved the distinction of being the First Alloy Steel Plant in India. The company has all along enjoyed an enviable reputation for the quality of its products under " VISL STEEL " brand name, synonym for quality steel.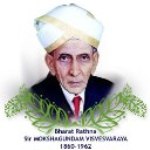 VISL to produce, Iron ore to special alloy steel, of exception purity. VISL developed boiler steel, micro alloyed steel and also supplies Value added CRM rolls & machinery to Integrated Steel Plants. VISL has received the ISO / TS 16949 : 2009 certificate & ISO 14001 : 2004 EMS. It uses Central Marketing Organization (CMO) Network for distribution. VISL assiduously nurtures a rich tradition in manufacture of iron and steel and meets the growing needs of Defence, Railways, Auto, Power, Communication and other key sectors of National Economy.